Resources for Families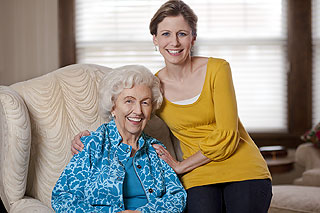 Ageing isn't easy. Not for the person who is feeling the effects of the years. Not for their family members.
As a person begins to age, family members are often called on to help with everyday things that their loved one now finds challenging – meal preparation, laundry and housekeeping. Eventually, many people find themselves assisting their loved ones in ways they never expected – like hygiene and grooming – or for diseases and disorders they could never have anticipated.
Right at Home Canada understands that caregiving for a loved one can take its toll on caregivers and it can change family dynamics. We also understand that many people find themselves hundreds or thousands of miles away from a loved one who needs care, which can become highly stressful.
These guides are meant to be a starting point to help you through making care decisions. If you have any questions at all please reach out to one of our Care Planners by calling 1 (855) 983-4664. We are always here to answer any questions.
Deciding if its time to look for extra help
Making the right care choices
Caring for the Family Caregiver
If you have any more questions or would like to discuss how we can help in your unique situation, call us at:
1 (855)983-4664
or fill out the
contact us form
and I will call you back at a time that works best for you. I look forward to helping!