Home Care:


Solving the Financial Puzzle
and understanding private vs government care
Making decisions around home care and support for a loved one can be daunting. For many the hardest part to figure out is the financial aspect needed to fund some of that extra care. At Right at Home Brampton, our Care Planners are always up to date on all the the community financial options available for nursing support and home health care. We can help you and your family navigate the system and find out all the options available.
Right at Home's home care services in Brampton can be covered by a variety of sources including: Insurances (group benefits, disability, retiree benefits, long term care (LTC) insurance, Veteran's Affairs, workplace safety, auto insurance); trust and estates; family/joint family funds; real estate equity; health spending accounts. All of Right at Home's care services are eligible for the Health Care Tax Credit.
Below, you will find more information and ideas on how to approach the financial aspect of home care services and extra support.
Family Support and Private Pay
When seeking help for a loved one's care, family support is an option that is often missed. While the cost of in-home care might seem overwhelming, with the support of multiple family members, it because a much easier path to take. Family members may ven be able to share the caregiver role with your loved one, requiring less outside support. This will lower costs further while ginving you the peace of mind of having outside services available when you need them.
We have also seen that some families prefer the extra control and consistency that can be achieved using a private home care company and will find a solution to avoid using governement support altogether.
When you call Right at Home, your Care Planner will work with you and your family to see where our home care services fit best in your caregiving plan.
Government Support and Private Pay working together
We are very fortunate in Canada to have some home care provided by our government through the local LHINs. These services are limited but are a great please to start when looking for home care or nursing care in Brampton.
Right at Home often works in tandem with government organizations to "fill the gap" in their care. Because the care available through the government is limited, they are rarely able to full cover all the needs of their clients. This is where we come in. We can help with any extra care above and beyond what they are offiering you. We will work with their schedule to offer the support your loved one needs during time when they are unable to receive government support.
Keep in mind that when you work with Right at Home or a private home care organization, you are not changing your elegibility for government care. Our role can be as small or as large a piece of the overall Care Plan as you wish or need. We are flexible and can increase or decrease support at any time as needed.
Here are some examples of the different roles that government and private support fit into in your overall Care Plan:
| Service Example | Government (LHIN) | Right at Home (Private) |
| --- | --- | --- |
| Companionship, Meal Prep, Social | Government-supported care rarely covers such things as laundry, social outings and transportation, meal preparation and general housekeeping. Government care is usually focused on task oriented personal care and short visits, simply because they are in very high demand without enough resources. | Yes. Right at Home Caregivers are able to help in many ways. Read more about our companionship care services here. |
| Personal Care | Mostly limited to short visits at the start of the day or in the evening. | There is no limit. We can be there whenever needed or wanted. |
| Transportation and Errands | No | Yes, Right at Home can help with all transportation needs, from family visiting to appointments and errands. |
| Hospital Support | No, the CCAC/LHIN file is put on hold and the hospital takes over during your stay there. This means you will not receive extra government care above what the hospital offers. Once you or your loved one is ready to go home, the LHIN representative will reassess the care requirments. | Yes, we can provide advocacy companionship together with your hospital care team. This may include meal time support or simply being there when family members are unable. |
| Medication | Government support usually only offers medication reminders. | Yes, Right at Home can manage all your loved ones medications with the help of our Caregivers and the oversight of a Right at Home nurse if required. |
TIP: Be mindful of looking for the best deal
When looking for nursing care or home care it is very important to focus on quality of service and your loved one's needs. If the emphesis is put on finding the cheapest providor you may end up choosing the wrong organization for your loved one. This can lead to inconsistent and poor service. Look for a caregiver that has you and your family's interest in mind and hires for quality. You can read more about our Caregivers here.
Other financial sources to review
The LHIN and paying out of pocket are your two man sources for supporting nursing care, home care and respite care. However, there are many other options that may be relevent to your loved one. Your Right at Home Care Planner can help guide you through all of the options that are available or you can review some of them below.
Ontario Disability Support Program
For those with a disability that may need extra help with living expenses, you can see if you are eligible at Ontario Disability Support Program (ODSP).
Interim Federal Health Program
The Interim Federal Health Program (IFHP) provides limited, temporary coverage of health-care benefits to people in the following groups who aren't eligible for provincial or territorial (PT) health insurance: protected persons, including resettled refugees; refugee claimants; and certain other groups. More Info is available here.
Veterans Affairs Canada
Eligible Canadian Veterans can receive support for healthcare services, including home care. More information is available here.
Extended Health Insurance Plans
It is becoming more and more common for some elements of care to be covered by health benefits. Always check with your provider to see what is covered, especially if you have an extended health insurance plan.
Why Right at Home for your home care needs?
Over 20 years of experience.

Right at Home has been providing award winning customized senior care and home care for over 20 years.
Read more about who we are >

YOUR Caregivers are all part of YOUR Care Team.

This means that there is no revolving door of Personal Support Workers and Nurses. With the help of your Care Planner, you choose and get to know them. This leads to an level of care for your loved one that is unsurpassed in our industry.
Read More about how Care Teams work >

Professional Caregivers

. Right at Home Mississauga's dedication to the highest level of service is the basis for everything we do including how we hire and train our Caregivers.
read more about our Nurses and PSWs >

Working with government support

. Your Care Planner will work to help you find the government supports you are eligible for (if you would like them) and then work to find a solution for the care needs that go above what government and family can do. We will also work around the government care plan so that we are enhancing it.
We help in home, wherever home is to you.
Our Caregivers are always out in the community visiting homes, Retirement Residences, Long Term Care (LTC), hospices and hospitals. Our Brampton team will help out wherever you need us. If you are looking for help in other areas of Ontario or Canada please reach out and we will put you in touch with one of our other Care Offices.
If you have any more questions about solving the financial puzze or would like to discuss how Right at Home can help in your unique situation, call us at:
(905) 793-2100
or fill out the
contact us form
and I will call you back at a time that works for you.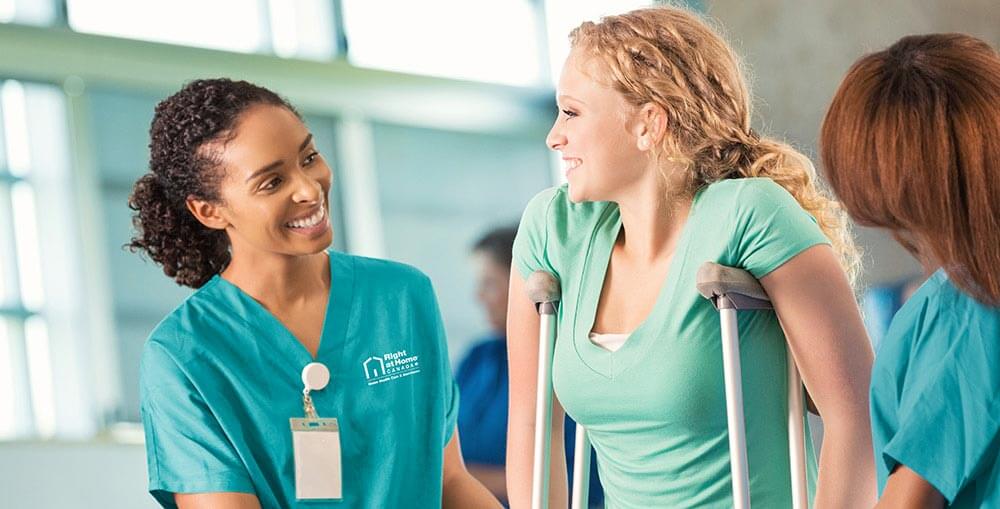 Our Caregivers
More than just insured & bonded. What makes our Caregivers so great? Read about the Professional Support Worker program and how it's redefining quality care.
How we work
Our custom built Care Plan is only part of our process that is designed to give you the best care possible. A free in-home assessment, Caregiver matching and more.