Right at Home provides in-home nursing and therapy services to assist clients with both medical and rehabilitation needs: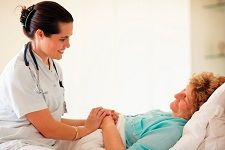 Post-surgical care

Hospital discharge care

Medication set-up and administration

End-of-life care

Physical therapy and rehabilitation

Occupational therapy

Wound management

I.V.-related therapies and administration

Ostomy/Colostomy care

Catheter care

Tube feeding assistance

Care associated with chronic conditions

Skilled hospice support

Escort to Doctor's appointments

Medical communication between doctor and family
Looking for a mix of Nursing and PSW support? Your Care Planner will work with you to create a Care Plan that covers all of your needs while keeping in mind budget and complexity of care requirements.
If you have any more questions or would like to discuss how we can help in your unique situation, call us at:
1 (855) 983-4663
or fill out the
contact us form
and I will call you back at a time that works best for you. I look forward to helping!