You and your loved ones have places to go — our professional drivers can help you get there. Right at Home Vaughan is pleased to offer affordable transportation services for seniors and others who need transportation assistance.
We provide reliable transportation to and from doctor's appointments, family outings, and the other occasions that matter to you.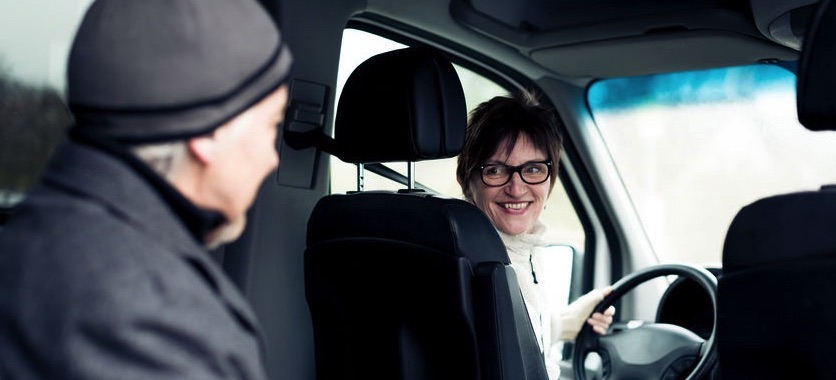 When you or your loved ones travel with us, you'll be in the care of experienced, professional drivers who understand your needs. Each member of our transportation team boasts an outstanding driving record and experience caring for seniors and individuals with cognitive or physical challenges.
Our service area includes the cities of Vaughan, Thornhill, Richmond Hill, Markham and Scarborough. Contact us to book your seat today.
What Our Transportation Assistance Includes
Like our other services at Right at Home Vaughan, we tailor our transportation assistance to meet each client's unique circumstances.
In addition to transportation services for seniors, our drivers and support staff are trained to accommodate adults and children with a diverse range of physical and cognitive challenges. We aim to provide a comfortable, safe experience driving experience for everyone.
As part of our transportation assistance services, we can:
Arrive early to help you get ready for your outing
Help you enter and exit the vehicle safely
Make special accommodations to ensure the vehicle is safe and comfortable
Provide safe transportation to doctor's appointments and other outings
Visit the pharmacy, laboratory, etc. following a doctor's appointment
Have a Personal Support Worker (PSW) or another professional on hand for additional support
Along with these basic transportation services, Right at Home Vaughan offers additional assistance with doctor's appointments for those who request it.
RightVisit Doctor's Appointment Assistance Services
Visiting the doctor can be a challenge. There's a lot of information to give, and even more to take in. At Right at Home Vaughan, we want to make sure our clients find their appointments as productive and helpful as possible.
Along with transportation to and from the doctor's office, our compassionate caregivers can attend the appointment to ensure you or your loved ones get the most out of it.
Our RightVisit service is entirely optional and can be separate from our transportation service. Should you desire it, a Right at Home Vaughan caregiver can join you or your loved one at the appointment to:
Take notes for later reference
Ensure the patient communicates their needs and the doctor listens
Speak on the patient's behalf (when requested)
Highlight important instructions to the patient and their loved ones later
Communicate information to

whoever

needs to know
Contact us to learn more about our RightVisit doctor's appointment assistance services.
How to Arrange Transportation
Right at Home Vaughan offers transportation and doctor's appointment services in Vaughan, Thornhill, Richmond Hill, Markham and Scarborough. These services are based on an affordable hourly rate, with additional mileage fees for trips outside the city.
As with all our services, we personalize our transportation services based on you or your loved one's unique needs. We are happy to sit down and discuss how we can help.
If you require transportation assistance in Vaughan or the surrounding area, we invite you to call us at (905) 296-5105 or send us a message any time. Our care team is standing by.