COVID-19
New
In these strange and challenging times, Right at Home is here to support you, your family, and our Caregivers, in the safe delivery of the care and professional support you trust.
Our highest priority is the health and safety of our Clients and our Caregivers. Because of this, we follow key processes and procedures:
Health screens for every client before each caregiver visit
Health screens for every caregiver prior to the start of each day
A policy of wearing a mask for every client, every time
Keeping client care teams small and dedicated to specific settings or families
PPE protocol above best practice guidelines from Public Health
Client and caregiver access to our RN for any COVID-related questions, discussions, fears
...more in the link below
Continue reading for more information, toolkits and other resources
Welcome!

Your Care Planner is here to quickly help you find the right solutions to all of your home care needs.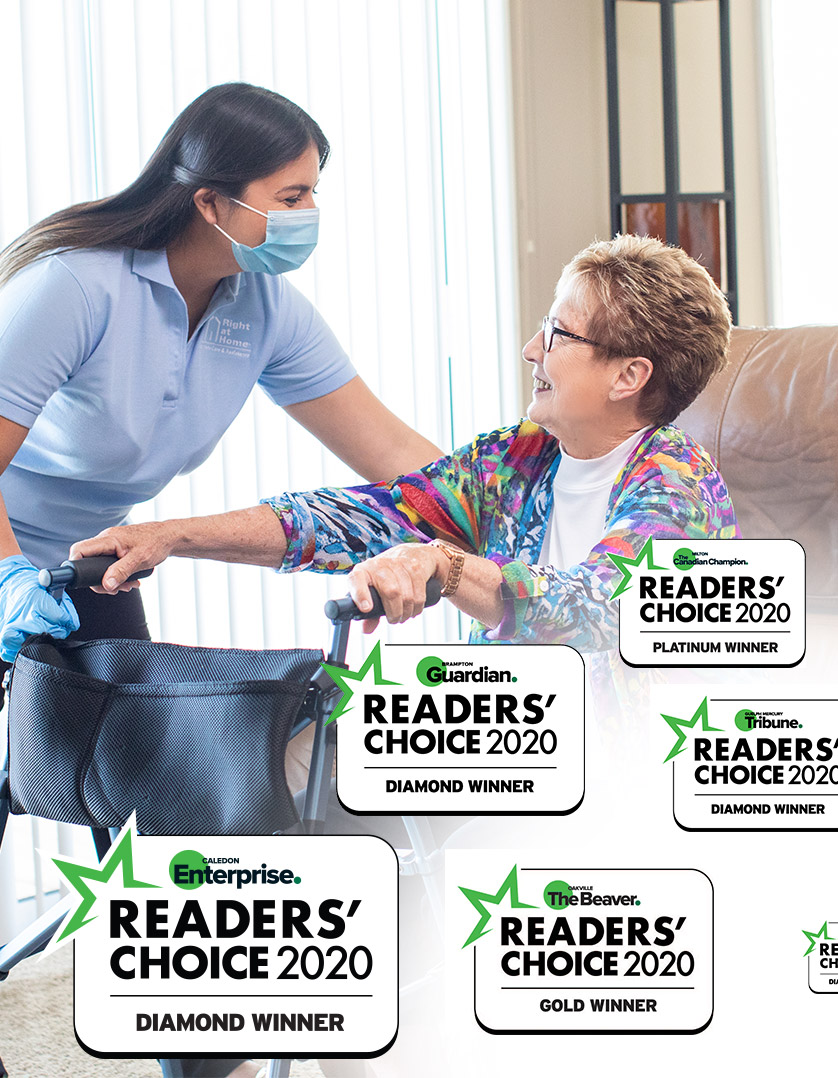 Shortly after calling Right At Home we will connect you with your personal Care Planner
Your Right At Home Care Planner is your personal advocate. They will help you explore all of your care options and craft a customized, flexible care solution that fits within your budget and family's needs.
Along with connecting you with a team of highly trained PSW Caregivers and Nurses, your Care Planner also has a deep understanding of all the private and government care options in Brantford. They will help you navigate the complex care system to ensure a seamless communication of all services. On top of all of that, your Care Planning services come at no cost!
Exceptional Care Offerings
At Right At Home Brantford, we are proud to offer a full range of incredible support and home care services for those with physical, medical, or memory impairment. From companionship, meal support, therapy and rehabilitation to senior care, dementia care and hospice care, we offer a wide range of services for all your care needs.
Support Throughout Ontario
Right at Home Brantford provides service in Caledonia, Binbrook, Caistor Centre, Cayuga, Port Dover, Hagersville, Port Maitland and Waterford.
If you do not see your area, you can find your local Care Office here or by calling 1.855.983.4663.
Industry Leading Exceptional Caregivers
Right At Home Caregivers are insured and bonded, with yearly background checks both locally and federally. Through in-depth on-boarding and continual education, Right At Home ensures our Caregivers are always moving forward in their careers.
Our Caregivers are Right At Home and their dedication to their craft is what sets Right At Home apart. Truly a boutique level of service.
The stories behind our Senior Care services
Aging is individual. We know it affects everyone differently. But in many cases, there are similarities. To help you understand how we can help, we've shared a few stories of typical clients who receive at-home care for elders. We hope this will give you an idea of how Right At Home's home care for seniors could benefit your loved one.
What can we do for your loved one?
No two people are the same, and neither are their care needs. Your Care Planner will work closely with you and your family to come up with an individualized care plan that gives your loved one the precise attention they need. Our Custom Care Plan can be designed to help individuals overcome health and mobility challenges, function better with conditions like dementia, heart disease, paraplegia, or severe arthritis, and more.
Learn more about Right At Home's individualized in-home assistance services and boutique approach.