- Right at Home Canada -
1-855-983-4663
In Home Care Services For Everyone. A Care Plan Just For You.
COVID-19
New
In these strange and challenging times, Right at Home is here to support you, your family, and our Caregivers, in the safe delivery of the care and professional support you trust.
Our highest priority is the health and safety of our Clients and our Caregivers. We believe very strongly as an organization that knowledge and vigilance are our strongest protections in the fight against this virus.
We recognize that our communities rely on us even more now than they ever did, and we are honoured to see the wonderful work our caregivers do, in their dedication to the continued care of our clients and community members.
Continue reading for more information, toolkits and other resources
At Right at Home Canada, we pride ourselves in offering a full range of exceptional support and care services for those with physical, medical, or memory impairment. Our medical, non-medical and care management services are designed to help your family today, and continue to help as care needs change. Your personal Right at Home Care Planner is dedicated to working with you to tailor the right care services for you and your family, delivered by a your own professional Right at Home Care Team known for their big hearts and their passion for in-home caring.
What can we do for your loved one?
Living with physical and memory challenges is difficult, and can affect each of us in different ways. But there are similarities in many cases. To help you understand how we could help you support your loved one, we've compiled stories of some more common Right at Home client care scenarios. The services that fit their situation will hopefully give you a visual idea of how our Right at Home services, once tailored to the unique needs of your family, could provide that difference between a feeling of uncertainty, and comfort and security.
The stories behind our Senior Care services.
Aging is individual. It affects everyone differently. But there are similarities in many cases. To help you understand how we could serve your loved one, we've compiled stories of some fairly typical Right at Home customers. The services that fit their situation will hopefully give you an idea of the services that could benefit your loved one.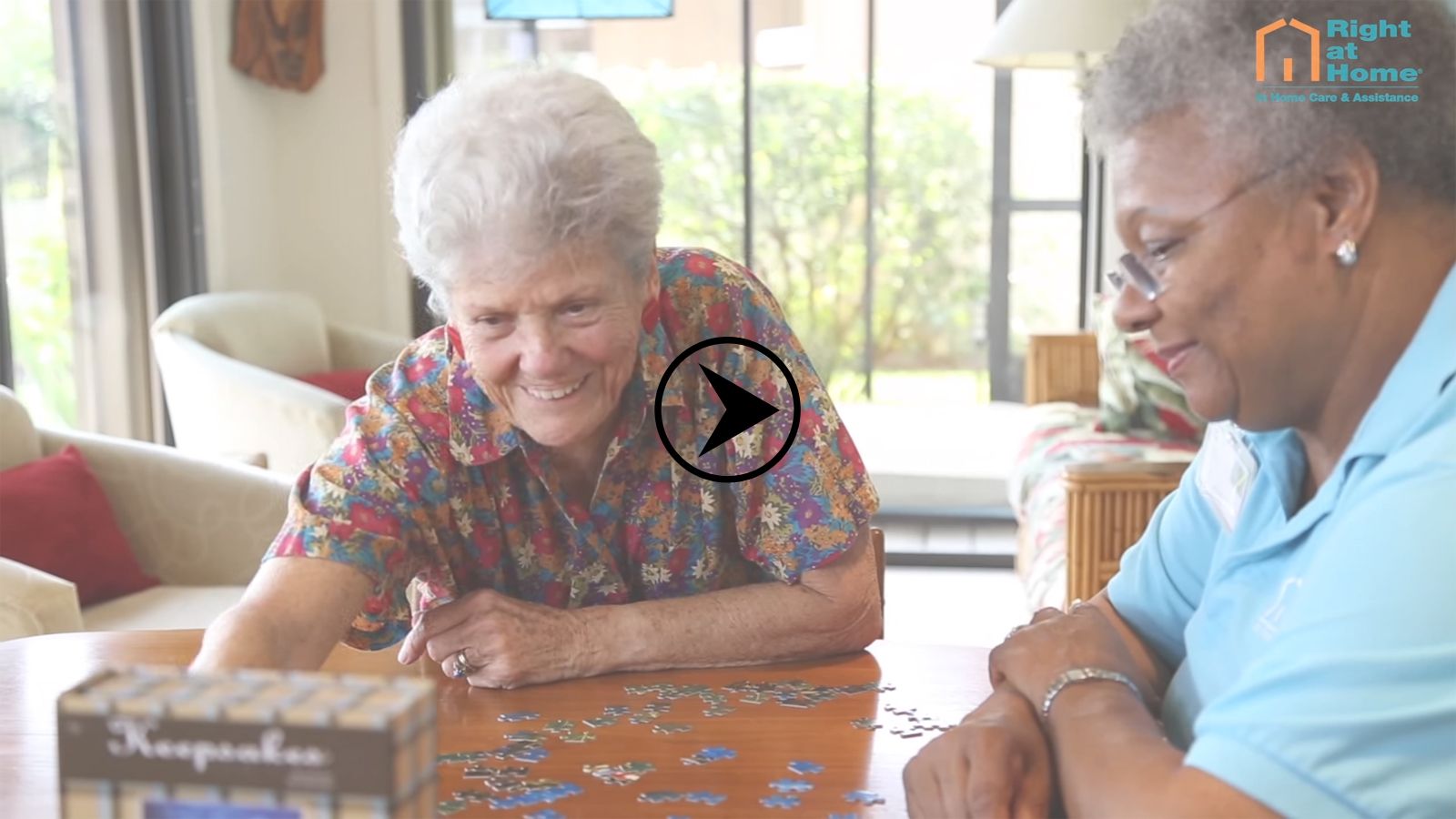 What Tina has been doing – and the level of care she shows – is invaluable. I spoke to her this morning for a quick update and I feel so comforted by her no-nonsense approach that is clearly mixed with compassion and care. It sounds like she has developed a very nice relationship with my mother. We are grateful.



I was immediately impressed by the warm and friendly atmosphere of the office and by the owner, who was very up-front and real. I felt very at home with her and very at ease. [The caregivers] are not just employees. We are family and a team. We look out for one another, and we look out for the owner as well. She is supportive of our situations and is always there to encourage us to grow in our experience and knowledge.

Angela, Caregiver
The caregivers that Right at Home employs do not see this as a job, but as a wonderful opportunity to improve or enhance the quality of life for the people they care for. This distinguishes them from other agencies.

Barbara G., Director of Marketing & Development at Assisted Living Facility
Right at Home goes the extra step with their clients to provide quality caregivers, which is rare in the environment today. They provide a personal, hands-on relationship with each and every person they care for - starting from the first day working with the client - when they personally visit their home.

Dan B.
From the start, Right at Home were welcoming, helpful, and immediately responsive to my Father's care. We instantly responded to their friendly and service-oriented approach and felt that we could work with them. They also seem to hold the bar pretty high for the caregivers working with them, and their high standards and extensive selection process reassured and impressed us.

Debra M.
My caregiver does a beautiful job for me. I have never had it so good! She is wonderful, and quite worth it. She is simply one of a kind.

Dorothy J.
My family and I were really pleased with Right at Home's efforts. They provided first class service, and provided a caregiver who really knew what she was doing. It is not necessarily easy to transport a person who is not feeling well, and Right at Home did a great job in providing this service. Our experience with Right at Home was just perfect.

Jim H.
My first client was 89-years-old, and I ended up staying with her 24/7 until she passed away at the age of 92. I used to read the Bible to her, and we sang songs together because she used to be a choir director at her church. She wanted me to sing her favorite song – 'The Old Rugged Cross' – at her funeral. I did. I was with her when she took her last breath. It was such a sacred moment. I'll never forget it. It just cemented this whole career for me and made me realize this was what I wanted to do.

Karen Stevens, 2009 RightCare Winner
Other agencies cannot compare to Right at Home Canada's service. When I use Right at Home to place a caregiver into someone's home, I know they not only come to do their job, they also build relationships. Their intake process is in-depth in order to help place staff that will fit the patients' needs. I think this is the cornerstone of so many happy patients. They have a genuine interest and passion for the elderly.

Kim M., RN, Clinical Case Manager
Right at Home's service couldn't be any better. They know what is needed and do it efficiently. Their performance is excellent, and that covers everything they do. The Right at Home care giving team does not just sit around - they look for things to do, and are very smart. The caregivers are great companions, and I would gladly recommend Right at Home to a friend.

Larry L.
I feel better about myself knowing that the care that I give may help someone live a happier life. My greatest reward is in knowing that my presence makes a difference.

Mikole K.
Right at Home's staff were very professional, understanding, and helpful with my family; they were willing to go the extra step and to be contacted at all hours. I was amazed how quickly Right at Home was able to get a caregiver in my Grandparents' home and help them immediately. They went through the process of finding a quality caregiver that specifically fit my Grandparents' personality and needs. It was a very efficient process all around.

Monica G.
It is an honour every day to serve others in their homes and provide them with the type of care that they deserve. Receiving the RightCare Award was another honour. It wouldn't have been possible if not for my clients. I always think of them first. I do my job because I love to do it and not because I expect to receive any gifts or an award. To me the award is just as special as receiving a smiley face from a client, showing their appreciation.

Patricia, 2008 RightCare Award Runner-Up
Your Right at Home caregiver was wonderful. She was so helpful - and after working with many agencies - was the best caregiver from any agency that we had in the past year!

Sandy B.
We are very happy with Right at Home's services. All is going great, as our caregiver is very pleasant and always works fast and thorough. Our caregiver is simply amazing and always works with a smile. Right at Home's flexibility of schedule pleases us greatly and we are really pleased with their services.

Sid & Marge B.
Additional Resources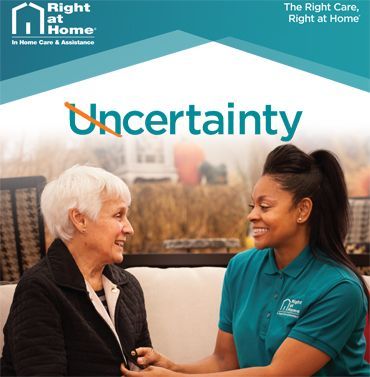 Only Right at Home can provide the Right Care. Download your free Adult Caregiving Guide today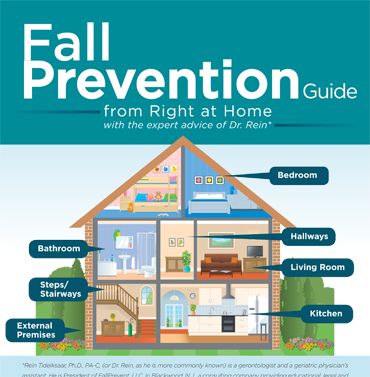 Preventing falls is preventing hospital readmission and helps seniors stay in their homes longer. Let's keep your loved on their feet! Find out more about fall prevention with this free brochure!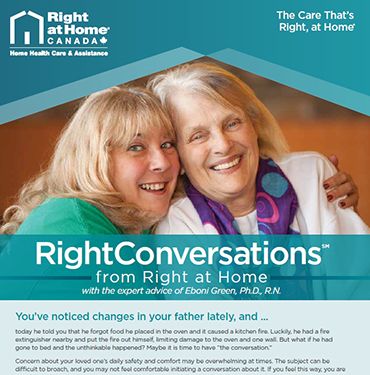 We know it can be tough to have the home care options conversation with our loved ones. Right at Home has made it easier to address with our RightConversations Guide. Download your free guide today.