According to Diabetes Canada, an estimated 3.4 million Canadians have diabetes and 5.7 million more are prediabetic. Diabetes affects almost 25 percent of people over the age of 65. Many who are diabetic also suffer additional complications from heart conditions, high blood pressure, mobility issues, foot care problems, and kidney disease.
Right at Home can provide support and education to patients and families living with diabetes.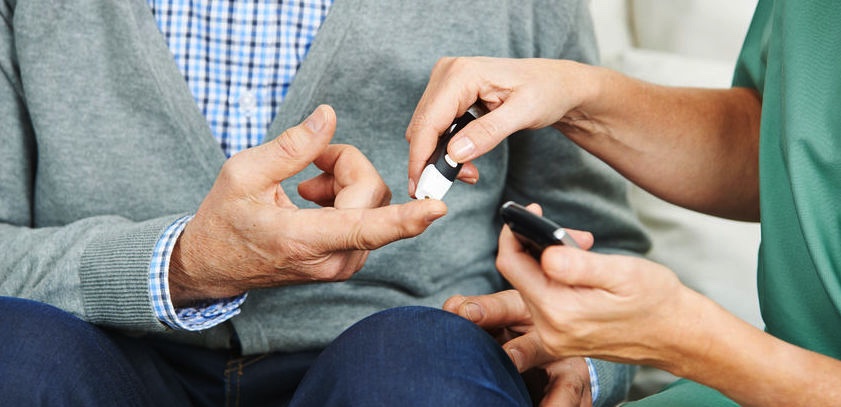 Care Required for Diabetes
Being a caregiver for someone with diabetes requires vigilance, and managing the disease takes a great deal of planning and caregiver-patient communication. Depending on the person's age and capabilities, the care required for a person who has diabetes may include:
Planning and preparing meals that meet strict dietary requirements

Checking blood sugar levels

Helping to administer insulin and other medications

Diabetic foot care

Monitoring the person's physical condition

Communicating with various healthcare professionals

Planning and assisting with exercise routines

Purchasing supplies necessary to treat diabetes
Diabetes Care Services
Right at Home can provide in-home care services to help families living with diabetes. In addition to housekeeping, companionship, and personal care, our Professional Caregivers can provide services specific to meet the needs of a person who is diabetic.
We support caregivers for people with diabetes in the following ways:
Education on managing blood glucose levels

. Understanding how diabetes affects the body and the role of diet, exercise, and diabetes medications in managing diabetes helps patients live healthier lives. Right at Home can provide personalized education on the signs, causes and treatment of low blood sugar that takes the patient's abilities and lifestyle into account.

Medication administration.

For patients and relatives who have difficulty administering medications (including insulin) Professional Caregivers and Registered Nurses can step in to help by administering insulin or providing education on administering smoothly.

Healthy meal preparation and planning.

Following a healthy diet is a key part of managing diabetes. Our Caregivers can prepare healthy meals and help develop a nutritious, filling meal plan that caters to the patient's disease, needs and preferences.

Development of a light exercise schedule.

Physical activity is important for both diabetes management and a person's overall health. We can work with you to develop an exercise plan that is age and ability-appropriate.

Medication reminders

. On average, a person with diabetes takes nine different medications. Following a medication schedule is important for controlling blood sugar and preventing complication.