Your Career as a Caregiver
Caregiving And COVID-19
Now, more than ever, it's clear how essential caregivers really are. The people we serve rely on our caregivers, not just for companionship during a time of isolation, but also for assistance with their basic needs. Without dedicated caregivers, many seniors and adults with disabilities would be left with little support. You can make all the difference.
When you become a caregiver, no day will ever be exactly the same as the last. No matter what type of caregiving you provide, you will always have a wide variety of duties and experiences.
And that's important to us.
Caregivers are the heart of our organization. We know our company couldn't exist without you, which is why it's so important to us to keep your passion strong and to ensure your needs are met.
Read more below about the unique positions we offer, along with the training and support we provide to every Right at Home caregiver.
Benefits of a Right at Home Career
Flexible hours and competitive pay
A caring, supportive team
An independent work environment
Learning new senior care skills
Building one-on-one relationships with clients and families
Growth and training opportunities
Paid time off after one year
You Are the Right Fit
We believe that all kinds of people make great caregivers. It doesn't matter if you have a little experience or a lot: You might already have the skills it takes to benefit a senior or adult with disabilities. Caregiving might be right for you if:
You're a retiree or empty-nester
looking for meaningful part-time employment…
You're new to the workforce and want to build
a successful career in health care…
You have experience caring
for a friend or loved one…
You've worked as a professional caregiver
for another company…
You're working toward
becoming a CNA or RN…
You're looking for
a more meaningful career…
Types of Caregiving
We're proud to be able to offer elderly people and adults with disabilities a wide variety of care plans. Though some of our clients will need more advanced care, including administration of medicine or hygiene assistance, others are simply looking for help with their everyday routines or assistance in recuperating from a hospital stay. This means that no matter your current training or skill level, chances are we have a position for you.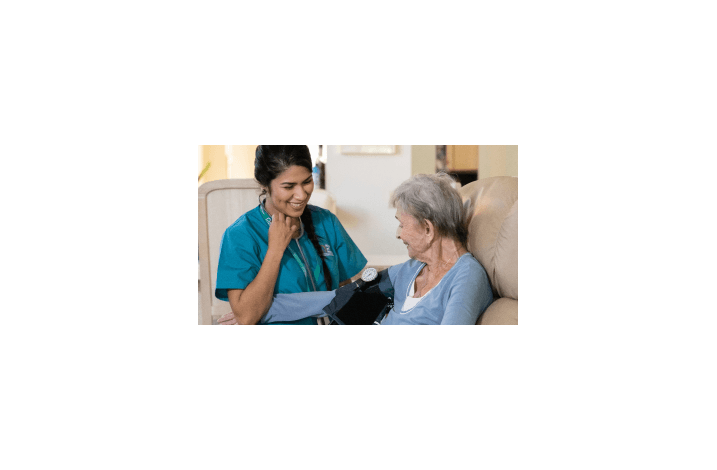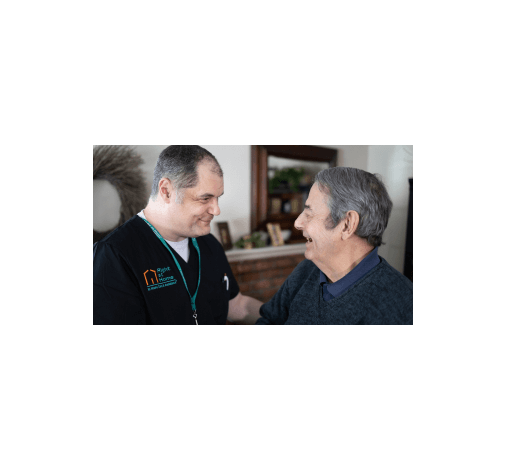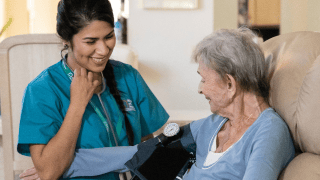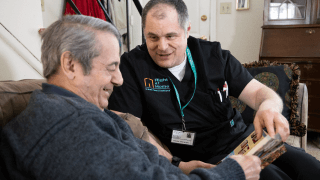 * Job titles and descriptions may vary depending on location.
Hear What Others Are Saying
"We wanted to let you know that Nico is amazing, and we are so grateful for him and his skills. Calling your organization was the best decision we made and I think the only thing keeping my mom sane. What you do is so incredibly invaluable. Thank you."
A. B., Patient's Family Member, Collingwood
Hear What Others Are Saying
"I want to thank you for your help and the services you provided for Norm. He repeatedly told our friend on Friday evening that 'this nice young lady came to visit him, and we went for a walk and had a really nice visit.' He really liked Amy and they chatted along like old souls."
Brenda, Patient's Family Member, Collingwood
Hear What Others Are Saying
"Helen just left and I have to tell you how delighted I was with how caring and careful a nurse she is. She was tactful, patient and kind. Thank you so much for your efficiency, clear communication and for sending us the perfect person for the job."
Kate, Patient's Family Member, Collingwood
Our Promises to Our Caregivers
We promise to help you become the best you can be. We will equip you as a professional by providing best-in-class training and investing in your professional development.
We promise to coach you to success. We're always available to support you and offer you tips to be the best at delivering care to clients.
Celebrating the Importance of Caregiving
At Right at Home, we believe in delivering the highest quality care to our clients and their families. Every year, we reward the caregivers who go above and beyond with our Caregiver of the Year award, presented at our international conference.
See past winners