Caring for someone with dementia poses significant challenges. Without support, it's also hard to give the people we love all the care they deserve and need. Right at Home understands these challenges. Our staff is specially trained in Alzheimer and Dementia care, and is committed helping you take care of the person behind the disease.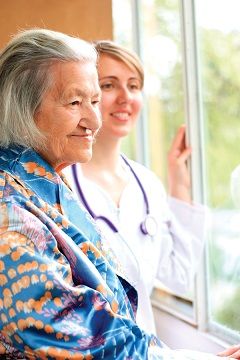 With support, many Alzheimer's patients can be cared for at home and don't require nursing homes or other facilities. In fact, more than half of all diagnosed Alzheimer's patients continue to live in home settings. Right at Home's services offer those who suffer from Alzheimer's:
Alzheimer-trained Care Workers
Familiar frame of reference
Freedom to move about in a familiar, unrestricted space
Minimal stress, which can aggravate the symptoms of Alzheimer's and dementia
Daily orientation to time, place and people
Continuity of daily routines and schedules
Consistent Care Workers and schedules
Meaningful, stimulating activities
Alzheimer's Information and Resources
More than six million people in the U.S. and Canada are living with Alzheimer's or dementia.
About one in ten people over the age of 65 have Alzheimer's and the disease affects more than 50 percent of people over the age of 85.
For a great resource on coping with Alzheimer's or dementia in your family, visit the caregiving section of the Alzheimer's Society.