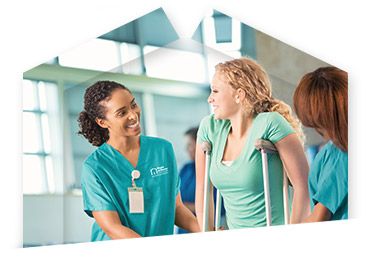 Truly Professional Caregivers
The Right at Home commitment to Professional Caregiving sets the bar high. Our rigorous, best-in-the-industry standards are there to ensure our client families receive safe, skilled, professional support with the highest level accountability.
We expect the highest degree of professionalism, skill, warmth and respect in everything our Caregivers do.
Careful Selection
To ensure that the people we employ meet our high standards, we have a rigorous selection and interview process that covers more than just competency. Each of our Caregivers must embody Right at Home's attention to a boutique level of customer service through our belief in total dedication to our clients and their families.
Peace of Mind
Our Caregivers are insured and bonded, with background checks always current and done on a yearly basis, both locally and federally. Their education certification is verified with their school.
Professional Caregiving
Right at home is the only Home Care organization in Canada that requires all of it's Caregivers to be a part of and in good standing with their associations or regulatory body at all times. This ensures that our clients only see the best Caregivers committed to the highest level of professionalism and client service.
Continual Education
In-depth on-boarding and continual education through Right at Home helps our caregivers to always be pushing forward in their careers. Through Right at Home University Caregivers are given training on issues that help them develop as better overall caregivers, as well as client specific training to deal with unique and complex situations.
Our Caregivers ARE Right at Home and their dedication to their craft is what sets Right at Home apart. Truly a boutique level of service.
If you have any more questions or would like to discuss how we can help in your unique situation, call us at:
1 (855) 983-4663
or fill out the
contact us form
and I will call you back at a time that works best for you. I look forward to helping!