Driving provides a wealth of independence that can make a huge difference in a person's life. Appointments, shopping, entertainment, and most importantly friends and family are all within reach when you have a car and a driver's license.
However, driving is also a great responsibility requiring the person behind the wheel to have a firm grasp on what is happening around them. As we age, our senses can often start to decline. While this may only cause inconvenience and frustration for some tasks, it can create significant danger when it comes to driving.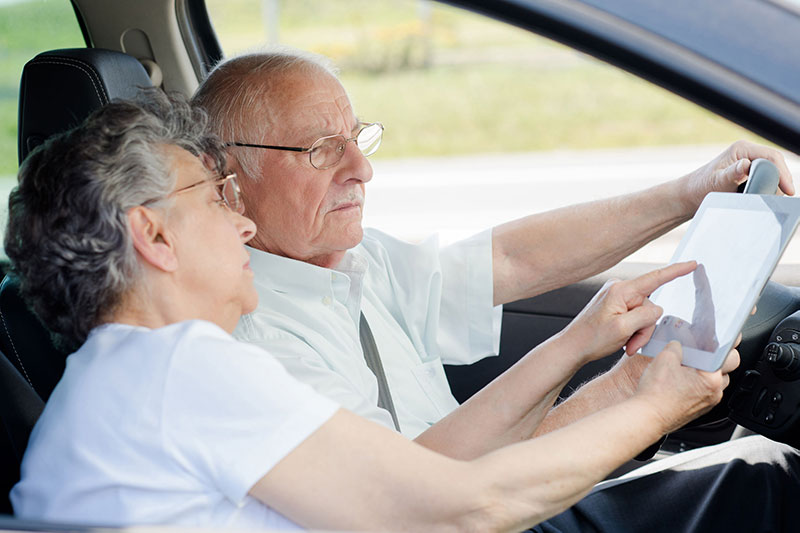 Some people can maintain a driver's license into their 90s. For most of us, though, we will reach a point in our twilight years when driving is no longer safe. It can be difficult to face that time and equally hard for loved ones who must point this out to a relative. Not only will the elderly person feel their independence is threatened, but they may not even think it is an accurate assessment of their abilities.
Unfortunately, a study by Statistics Canada revealed that citizens aged 70 and above have a higher rate of accidents per kilometre than any other group, aside from young men.
The next time you are driving with an elderly loved one as a passenger, pay attention to the following areas. If they are having trouble with any of them, driving may no longer be a safe choice.
Safety
Even local neighbourhoods can become difficult for senior drivers to successfully navigate during certain times of the day. Fellow motorists can also be very impatient. How an elderly person reacts to such situations is an important gauge of their capabilities. If they respond with anger, anxiety or confusion, this is a dangerous sign, particularly if they made an error and don't realize it.
Also, elderly people can be easy marks for carjackers or thieves who wait in the shadows of parking lots looking for people who cannot easily defend themselves. If your loved one seems tentative or confused, that makes them even more of a target.
Physical Ability
Driving requires a degree of physical stamina. Can the driver see cars, stop lights, pedestrians, and other obstacles clearly enough in all types of weather? Can they easily turn their head to look at the side and rearview mirrors? Are they able to hear car horns and other sounds necessary for proper vehicle navigation?
If a person's reaction time is slowing, or they cannot manipulate the steering wheel or pedals with enough strength and speed, they are a danger to themselves and others on the road. Ultimately, it boils down to this: do you feel safe while travelling with them as a passenger?
Navigational Ability
GPS devices can make it easier to find our way, but users still need navigational abilities of their own. The directions are not always 100% correct. Using the device requires basic programming skills. What if it malfunctions? Could the driver find their way back?
What You Can Do
One option is to have your loved one take a senior driving refresher course. These sessions reinforce basic safety and driving habits, show how aging impacts your driving ability, and provide tips on driver fitness. For example, The Alberta Motor Association, in conjunction with CAA, offers this type of program in Calgary, Edmonton, Red Deer, Lethbridge, Medicine Hat, and Camrose. CAA also has a Senior's Driving Portal with informative tips and videos, and several driving schools in Calgary offer in-person courses that can mix classroom and road lessons.
Provincial laws vary, but senior citizens of a certain age must undergo a driving test to determine if their abilities are still sufficient to retain a license (Alberta drivers must undergo a mandatory cognitive test, starting at age 75). If your loved one is reluctant to stop driving based on the advice of their family and doctor, a failing grade from an official driving examiner may be necessary to make the point clear.
Even if it seems clear that safe driving is no longer an option, it can be helpful to have a doctor run tests to confirm your observations. Having such input from a professional can help put any lingering doubts to rest. It should also help your loved one accept it is not just you and the family who feel it is no longer safe for them to drive.
When the time comes that they must surrender the keys, make it clear you remain on their side and will do everything you can to help. Discuss other options (ask your care coordinator about Right at Home's transportation services) and help your loved one adjust to the changes this will bring.