Today we present a guest post from Allison North explaining the affects of creative pursuits on a meaningful life with dementia.
Saving Sanity in Long Term Dementia Care
When we were selling Joan`s watercolor paintings, we promoted Sir Joshua Reynolds' sentiment, A room hung with pictures is a room hung with thoughts! Reynolds lost the sight of his left eye, which forced him into retirement from painting portraits. Joan did not let being legally blind stop her from painting landscapes of the backcountry she had skied, fished, hiked and biked. She played bridge on the computer, listened to audiobooks, lectured about Charles Bonnet Syndrome, used her talking watch and magnifiers with aplomb, drove her scooter, and lived independently until delusions signaled progressive dementia at 93. As a poster gal for creative aging, Joan accepted the brain changes and agreed to moderate medications. She had no choice about being institutionalized but graciously declined to pile guilt on her daughter`s shoulders in favor of getting on with today.
So, today, at 94, bound to a wheelchair and living in a long term care centre, Joan paints daily, at a table in the hallway, where residents and staff can see her and,sometimes, make comments. She wants to keep connected and understands the risk of communicating her inner self in a community ripe with angst. Her art is now a squiggly line depicting the mountains, a Chinook sky and some blotches for meadows.Yet, it is now so much more, thanks to a brilliant, talented, compassionate young lady, Samantha, recruited by an agency called Right At Home. Together, they repurpose Joan's paintings into all sorts of creations. Imagine learning to use a glue gun to make 3-D hearts or Easter baskets or mosaic rabbits featuring your own cut-up watercolors. Joan has the delight of giving art away again and in proudly hanging decorations on the care center's artificial tree in reception for all to see and, hopefully, think about what creative expression is all about.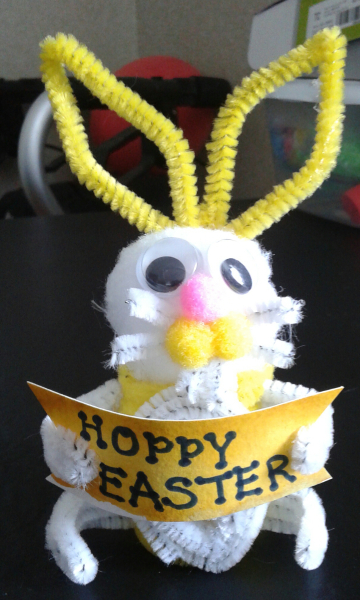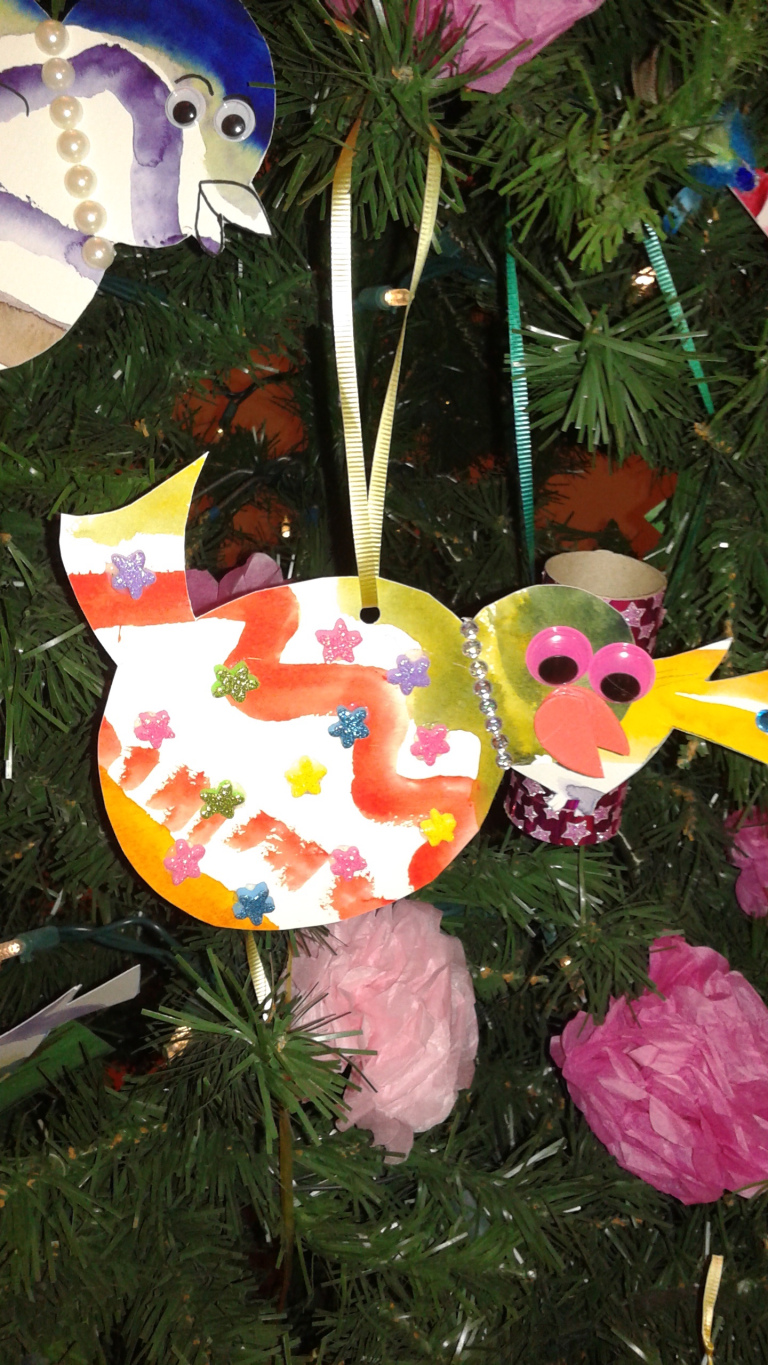 Together, the Right At Home team members, Joan and myself, developed a holistic routine that fits in around care centre group activities. It includes chair yoga, tongue and mouth exercises, coconut oil massages, crosswords, and angelic messages to 'soothe, heal, and open your heart'.We use Doreen Virtue's Daily Guidance from Your Angels as well as card decks for specific archangels. Joan randomly picks a page or card and the caregiver reads the message slowly. This practice has had a profound, calming effect on both, and leads to discussion and reflection and,oft times, action. Recently a card suggested more fresh air would be beneficial, so off they went out doors! There is kinetic sand to run your fingers through and dry clay and playdoh to sculpt or just roll or press or toss in the air. We discovered Bluetooth speakers and the idea of playlists on a cell phone so we can happily bounce our shoulders and sing some favorite songs like The Sunny Side of the Street and Ac-Cent-Tchu-Ate the Positive.
Hooboobbes! This super-duper word with Celtic origins is a cry of victory from Joan and her companion as they win yet another game of solitaire and laugh and laugh. Again, Joan prefers toplay in the partially empty dining room instead of her room. And walk abouts saying hello to all are considered wonderful. "An aesthetic experience is one in which the senses are operating at their peak, when you are present in the current moment, when you are resonating with the excitement of this thing that you are experiencing, when you are fully alive," says Sir Ken Robinson. The Right At Home agency team nurture creative expression and embrace with Joan the resulting experiences,cherishing the clarity that this moment was marvelous. This is best practice.
All of these activities fully engage Joan and are meant to help restore daily the self-confidence shattered when she is left alone to the night terrors, real and imagined. Having a soft and cuddly stuffed animal to hold helps with hoping that she will make it through the night without her spirit and soul being crushed.
How would you like to face that night after night?
Creative aging gets tough when you are 97 per cent aware of your circumstances and have so little control. I admire many of the people I have met who are recreational aides and are doing their best in their institution. Yet without the one on one caregivers from the enlightened agency Right At Home, Joan – and I – would have withered. We are grateful and joyous and I have taken up aformer passion of Joan`s – knitting – and made it my own.
To view more of Joan's art please visit her website here: https://northwatercolorsblog.wordpress.com/ We appreciate the opportunity to work with Joan and her family.
At Right at Home we are solution oriented at work with families to ensure the absolute best in care for the loved ones. Putting more life into your years, matters to us. Please give us a call at 4038698294 to find out more.