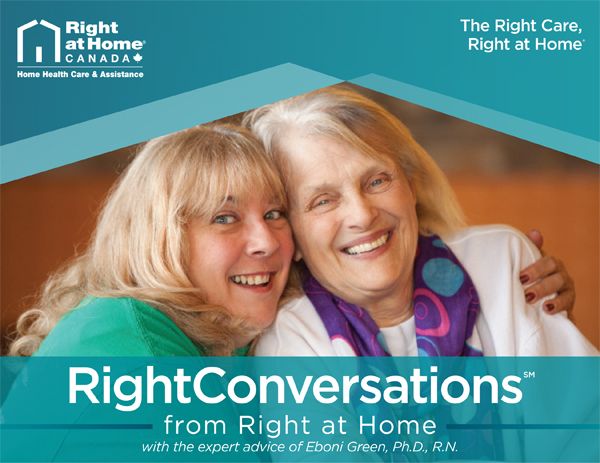 What is RightConversations?
RightConversations is a practical approach for effective communication between you and your loved ones. The tools included in our guides offer the opportunity to build a strong foundation to reduce caregiver distress while helping loved ones remain in the comfort of their homes.
If you have any questions, need some support with this conversation or just need some general guidance on next steps in care, you can reach your Right at Home Care Planner at:
1-855-983-4663
or fill out the
contact us form
.
RightConversations Videos
Sibling Confusion
This video discusses the questions siblings may have about the best way to design a care strategy for an aging parent. RightConversations can take the guesswork out of the planning process.
Having the Conversation Between Adult Children and an Aging Parent
This video describes when adult children may notice their elderly loved one may be needing assistance. The video discusses the fears an aging parent may have about losing his/her independence, and how family caregivers sometimes can have challenging conversations with their aging relative, and yet grow the relationship with love and compassion
How Can Family Caregivers Plan for the Conversation?
This video discusses how the need to have the conversation can come about gradually or all at once because of the effects of aging. This video illustrates the three supporting pieces – Communication Planner, Family Action Planner and Information Journal.
Why Right at Home?
Over 20 years of experience.

Right at Home has been providing award winning customized senior care and home care for over 20 years.
Read more about who we are >

YOUR Caregivers are all part of YOUR Care Team.

This means that there is no revolving door of Personal Support Workers and Nurses. With the help of your Care Planner, you choose and get to know them. This leads to an level of care for your loved one that is unsurpassed in our industry.
Read More about how Care Teams work >

Professional Caregivers

. Right at Home Mississauga's dedication to the highest level of service is the basis for everything we do including how we hire and train our Caregivers.
read more about our Nurses and PSWs >

Working with government support

. Your Care Planner will work to help you find the government supports you are eligible for (if you would like them) and then work to find a solution for the care needs that go above what government and family can do. We will also work around the government care plan so that we are enhancing it.
We help in home, wherever home is to you.
Our Caregivers are always out in the community visiting homes, Retirement Residences, Long Term Care (LTC), hospices and hospitals. Our Mississauga team will help out wherever you need us. If you are looking for help in other areas of Ontario or Canada please reach out and we will put you in touch with one of our other Care Offices.
If you have any more questions or would like to discuss how we can help in your unique situation, call us at:
1-855-983-4663
or fill out the
contact us form
and I will call you back at a time that works best for you. I look forward to helping!